Isaiah Simmons Workout for Explosiveness, Strength, and Speed
Last year around this time I created a DK Metcalf workout. This year, I'm creating an Isaiah Simmons workout, the next athletic FREAK to bust onto the NFL scene.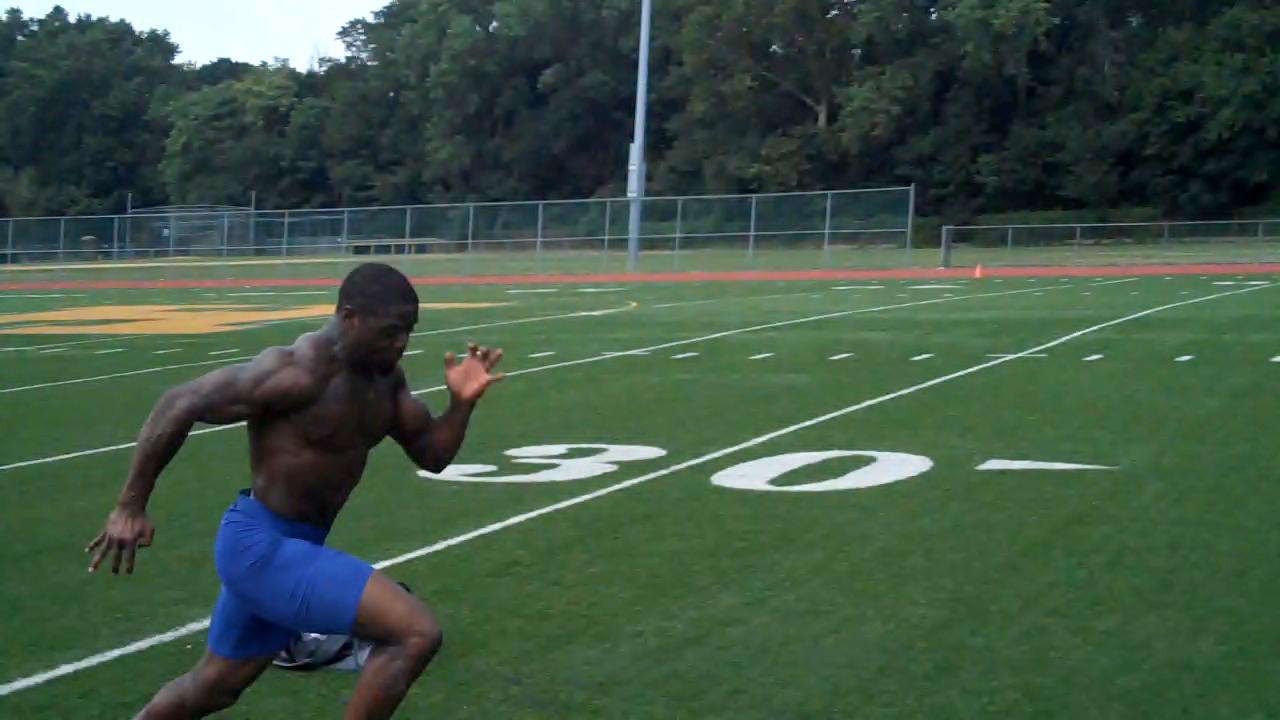 If you don't know, Isaiah Simmons is a linebacker/safety who dominated for Clemson last year. And as I said above, he's a freak.
Isaiah Simmons is 6 foot 3, 238 pounds. And at this year's NFL combine, he ran a blazing fast 4.39 40 yard dash. He leapt for an 11 foot broad jump. And he rocketed off the ground for a 39 inch vertical.
This makes him FASTER than the all-time greatest return man Devin Hester, MORE EXPLOSIVE than Alvin Kamara, and HIGHER FLYING than Julio Jones.
In other words, he's a specimen.
And while he's most definitely genetically gifted, you can train to develop physical traits like Simmons.
That's why I'm sharing this Isaiah Simmons workout. It's designed to reflect Isaiah Simmons' training and to make you stronger, faster, and bigger as well.
With all of that said, let's jump into this Isaiah Simmons workout:
If you want access to more workouts like this, click here
Isaiah Simmons Explosiveness Training
The first thing we have to address is Isaiah Simmons' power. It's off the charts to say the least. An 11 foot broad jump and 39 inch standing vertical isn't anything to sneeze at. Plus, his 4.39 40 is insane considering his height and weight. It's really a testament to his explosiveness.
In this section of the Isaiah Simmons workout, I'll share explosive movements to shave time off your 40 yard dash, increase your vertical, and increase your broad jump.
Let's go:
1A. Wall Drill 5×1
1B. 10 Yard Starts 5×1
Explanation: This superset is designed to improve an athlete's acceleration ability.The wall drill is designed to get an athlete used to being in a forward lean position. Additionally, the wall drill requires leg action that supports more efficient running mechanics.
The idea is that following the wall drill with a 10 yard start will ingrain proper motor patterns in the athlete when he runs.
In other words, he will be faster during his 10 yard sprint.
2. Staggered Broad Jump 6×1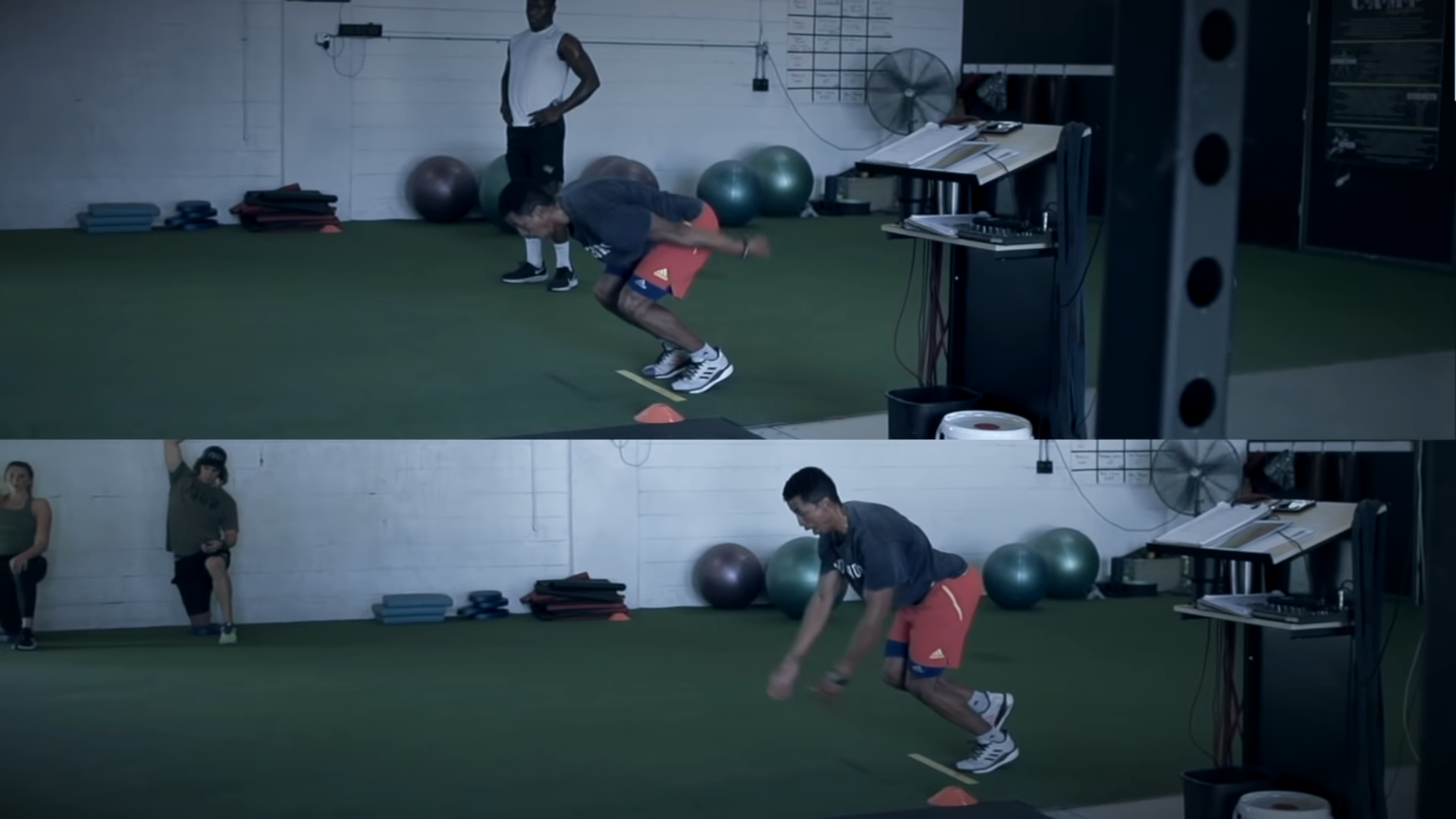 Explanation: Many athletes have a tendency to push off of one leg when they perform a start. Common sense will tell you that you'll ultimately be faster if you use two legs instead of just one.  The staggered broad jump teaches you how to do that. You'll just start with your feet in 2 point start position, load up your hips, and explode out as far as you can.
3. Single Leg Triple Jump 4×1 ea.
Explanation: The single leg triple jump is an advanced movement, so I don't recommend it if you haven't been training for a while. That said, it's a great movement to increase horizontal force production and lowering ground contact time.
4. Half Kneeling Box Jump 6×1 ea.
Explanation: The position of the half kneeling box jump forces you to produce force out of one leg. It's also pure force production, as there's no eccentric phase in this movement.
5. Seated Box Jump 8×1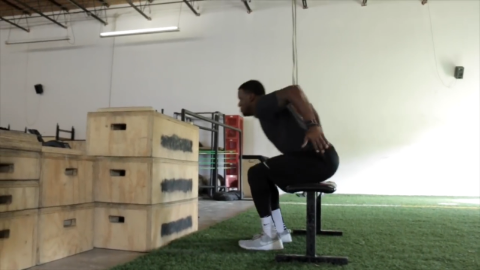 Explanation: Here's another movement that is pure force production. There is no eccentric portion of this move, but it's easier to advance because you're jumping off of two legs instead of one. Raise the box as high as you can on this. Challenge yourself.
Isaiah Simmons Strength Training Exercises
Elastic strength is absolutely key if you want to become more explosive. That's my I've made it a focal point of this Isaiah Simmons workout. If you want to have a shot at becoming as explosive as Simmons, you should train this way.
1. A. Accommodating Back Squat 6×3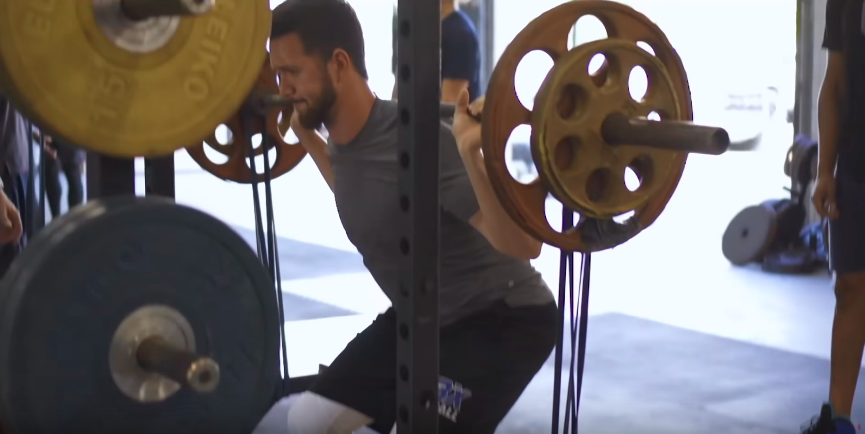 Explanation: Adding bands allows you to move weight explosively without the need to decelerate. Using a controlled eccentric tempo allows you to override GTO inhibition and contract your muscles harder than normal. These two attributes make a cocktail for more explosiveness and strength that carries over to the field.
1. B. Connected Tuck Jumps 6×1
Explanation: This movement combination is known as contrast training. You excite the nervous system with the weighted movement, then use the heightened nervous system to produce force faster with a plyometric movement. It's like grabbing a bucket that you thought was full.
2. Elevated Reverse Lunge 4 x 6 ea.
Explanation: This is one of my favorite strength movements because it's unilateral AND it replicates the body angles you'll be in during the acceleration phase of your sprint. This way, you get used to producing force with a forward shin angle. You also work through a deeper range of motion when you reverse lunge off a box.
3. A. Banded KB Swing 3×10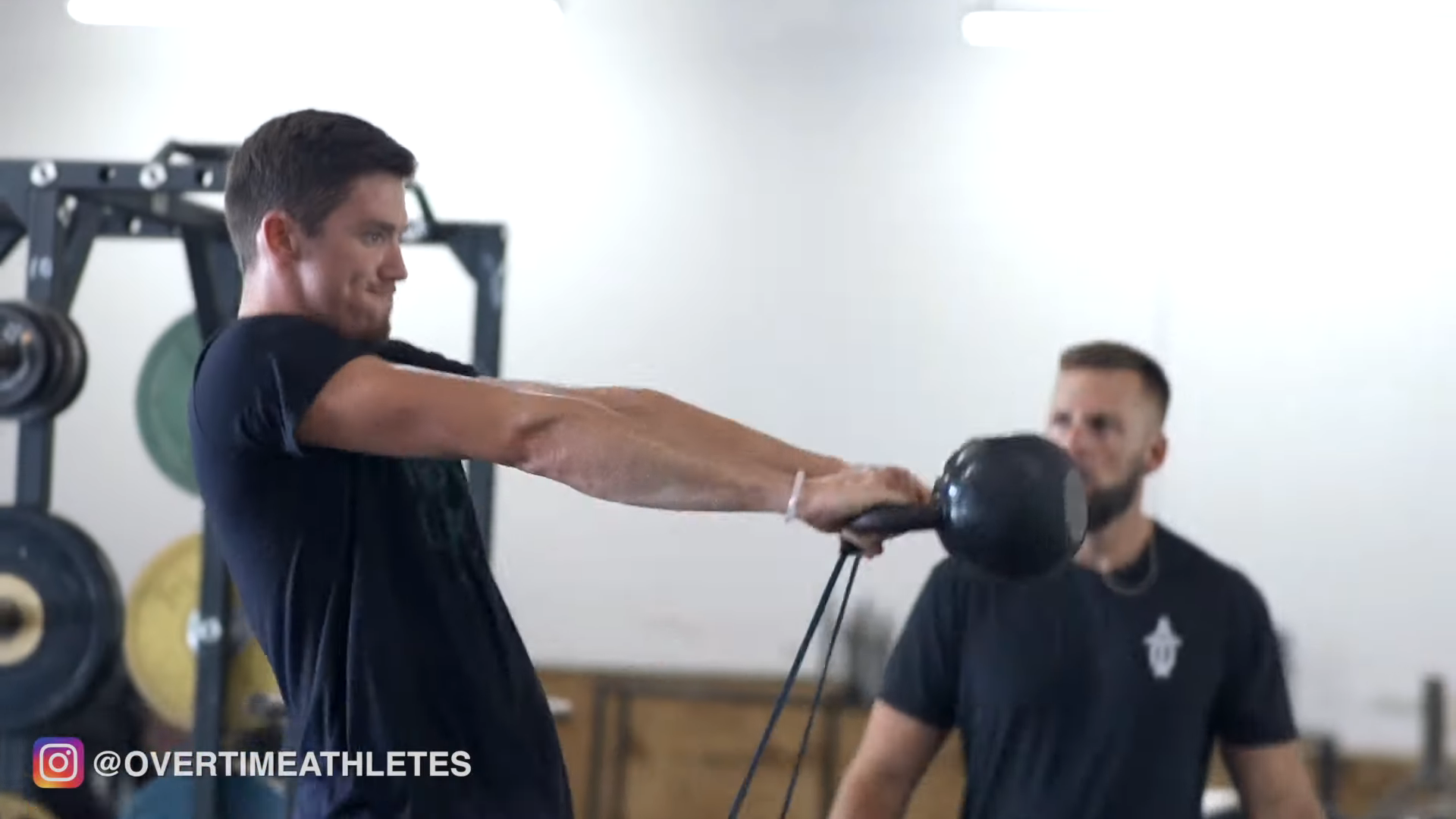 Explanation: Accommodating resistance is present here again, except this time the emphasis is on the hips. Again, the band allows you to produce force without the need to decelerate, so the weight is not as important as how fast you move it. This will build the elastic strength in the posterior, allowing for faster acceleration and more horizontal force production.
3. B. Bulgarian Split Squat Jumps 3×8 ea.
Explanation: Bulgarian Split Squat Jumps are a unilateral connected plyometric that teach you how to absorb and produce force quickly. These will be key in increasing your jumping ability off of one leg, and helping you maintain high speeds in your sprint.
Isaiah Simmons Core Exercises
Isaiah Simmons needs high levels of core strength and stability to maintain high speeds and transfer high amounts of force through his body. This said, for the Isaiah Simmons workout, I selected a core movement that builds both.
1. Stir The Pot 3×8 Ea
Explanation: This movement is simple, but effective. Plank on a swiss ball and make big circles clockwise and counter clockwise. This move will test your core stability as well as build core strength.
Where to Find More Athletic Workouts like This
Just a year ago, I wanted to make a program for the athlete, or the weekend warrior, who wants to become an athletic freak like Isaiah Simmons.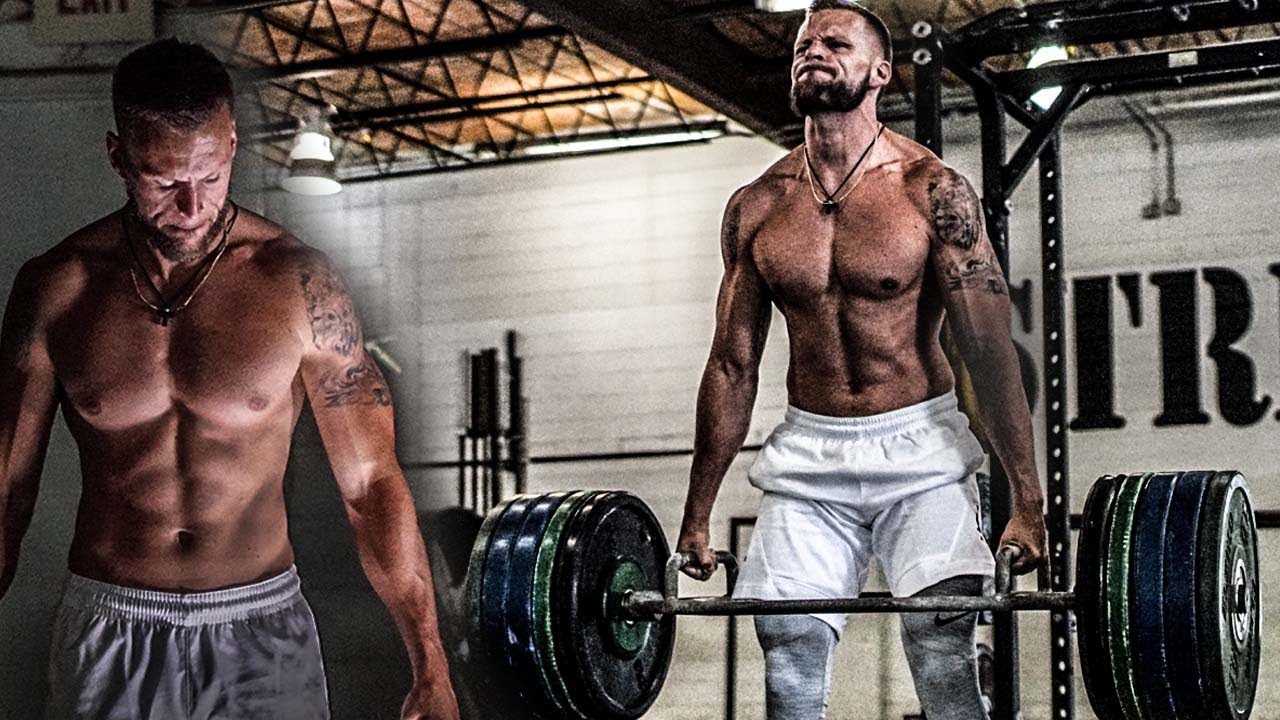 Someone who wants to jump higher, run faster, move with more fluidity…
But also,
Acquire lean athletic muscle, add plates to his bench press, and get ripped AF.
I called it Athlete Built Savage…
And it's still available today.
To see what it's all about, hit the link below: