I've got football athletes back in the gym and we're focusing a lot on change of direction drills for football. We're also pairing a lot fo these movements with acceleration and finish the session with some competition. For more football and sport specific workouts, head to our YouTube channel:
After going through a solid warmup, line up on the turf for the following agility drills:
Quick Lateral Shuffle
Karaoke Shuffle
"Look Back" sprint
Single Leg Lateral Hop
Single Leg Vertical Hop to Sprint
Single leg lateral hop to sprint
Go through 2 rounds of about 5-6 reps on each leg if applicable.
*Click here for a detailed explanation on how to perform these drills. You can also watch the video above to watch my guys perform this exact workout. As you go through each drill, you can begin to elevate the intensity or difficulty by increasing speed or power. Only start to increase the intensity, when you already feel comfortable with each modality.
These drills focus on change of direction which is an essential skill in all sports. You want to be powerful as you move down the field, and especially as you change direction to chase the ball or a man down line. Therefore as you train, focus on really nailing the "pop" with each rep. Stay focused and remain detailed.
Change of Direction Drills for Football
I like to end a lot of our training sessions with a bit of competition since it always helps the athlete to work at a higher level. Competition also really teaches the athlete to take the drills performed in the gym and apply them on the field. A drill is only effective if it would take place in a game time setting. Here's a great drill I like to set up:
Have two guys across the line, facing each other. On cue, they'll both hit a skater hop up line and then explode to sprint down line for 5 yards. Another great one is setting up across the line. On cue, both athletes will take 2 shuffles and sprint down line. You can add a shuffle in the opposite direction next – taking two steps up line before racing down.
Football Training Program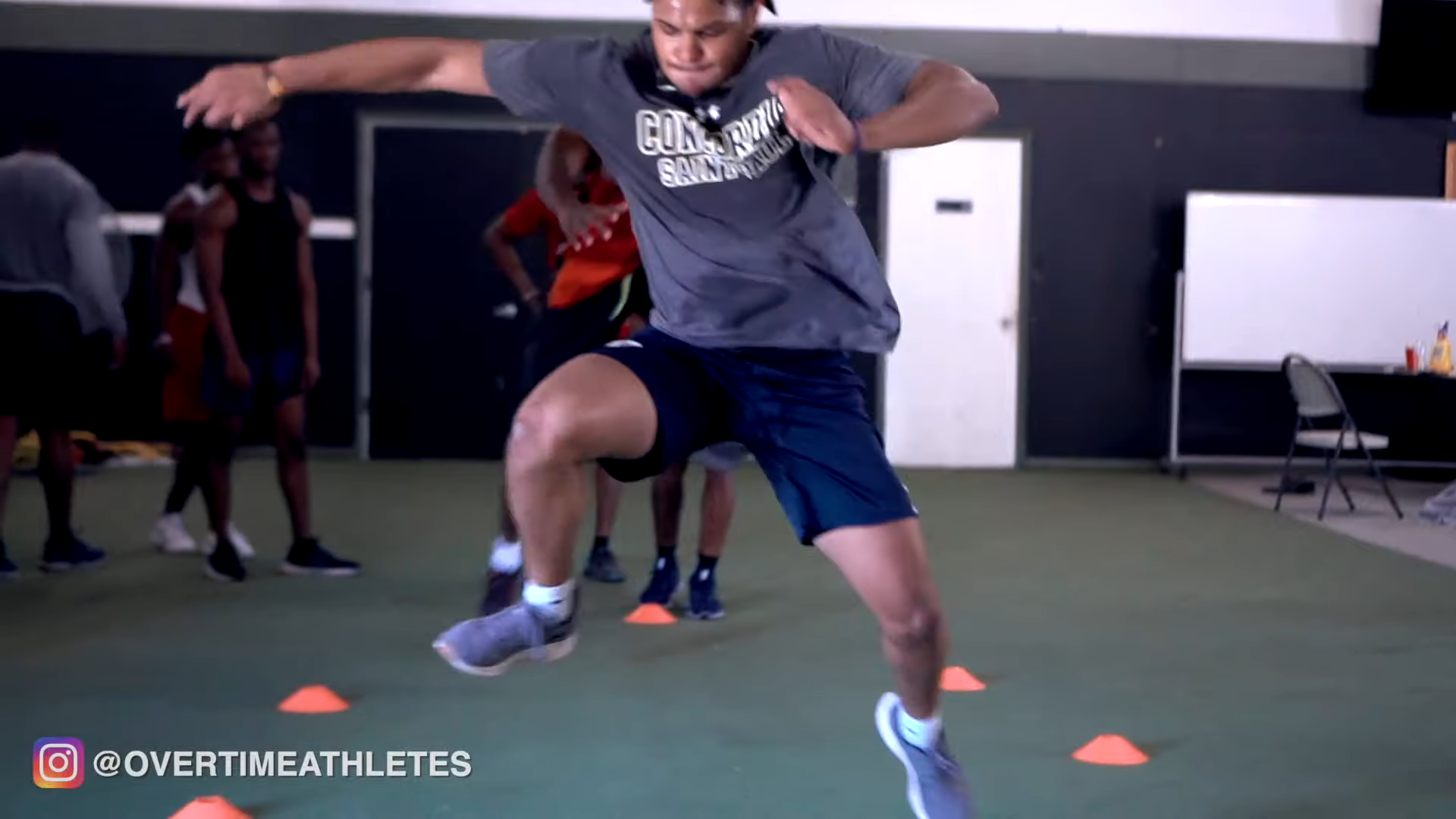 Wrap up your change of direction drills for football with some core training. From a supinated position (lying belly down on the floor), perform 2 rounds of 10 scap presses, 10 swimmers, and 10 push-ups. Finally you can move into a good lower body lifting session like this.
I recommend training with both change of direction plyometrics for football, as well as integrating competition into while moving laterally. If you're interested in a full off-season program for football be sure to check out my best-selling program – Gridiron Domination.
This is your chance to…
Gain epic size and strength for the season
Trim off serious time from your 40 time
Quick, clean cuts down the field