No matter what sport an athlete plays, I almost always have them work on falling starts to develop their acceleration. This focuses on the very first part of your sprint start or the "takeoff." Here's how: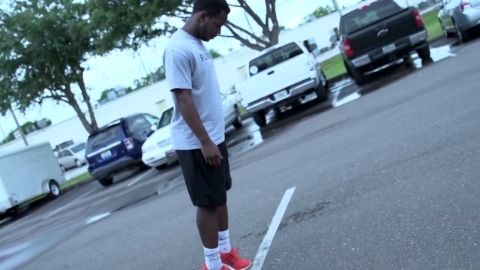 WHY DO FALLING STARTS?
Falling starts are meant to focus on the strong "lean" position you take on while starting and accelerating through a sprint. Whether you're observing a track athlete in the blocks or an elite football player waiting for the play to start, they're always leaning forward slightly. This body angle allows you to be more aerodynamic as you accelerate into a run.
It also creates a proper shin angle which is getting a bit complicated… but basically you want to be stabbing the toes into the ground which each step as you move into your full pace.
Check out these posts for more starts and acceleration training:
BEST ACCELERATION DRILLS FOR ATHLETES
How to do falling starts?
Set up with all ten toes on the line standing tall with arms by your side. On your go, keep the body completely straight so the spine is one long line from hips to the crown of your head. Keeping the chin tucked, begin to lean the weight forward into your toes so that you begin "falling" forward.
When you get to the point of needing to catch yourself, begin to swing the arms with the legs as you drive the knees high and focus on stabbing the ground for a few yards.
Common Mistakes
As you lean forward, don't make the mistake of just hinging at the wait or rounding your shoulders forward. Instead stay tall until you actually feel like you'll fall over, then start moving.
Programming
Use falling starts in any lower body or speed focused workout for some acceleration-specific movement. Complete about 5-6 sets of 1 repetition. 
SPEED TRAINING
To gain speed fast, you need a series of training methods in place. You need speed mechanics, stretches, strength training, plyometric, core training, and more.
It can be complicated to create. Especially with the untrained eye… That's why I dropped Athletic Speed System earlier this year.
Over a thousand athletes are currently riding with Athletic Speed System. And almost all of them have increased their speed in 30 days or less.
I'm certain it can do the same for you… If you're serious about your speed, head over to the link below for more details.