This is a full change of direction focused agility training session for football players. Recently I had the great pleasure of working with one of my good friends Osama Mujtaba, the conditioning coach for the Toronto Argos plus founder and owner of 5-4 Performance.
He brought a handful of talented football athletes down to my gym for a solid agility training session. I wanted a chance to peel back the curtains and give you a behind the scenes look at exactly what we did and why. This workout in particular started with change of direction plyometrics and evolved into multi -directional movement – eventually integrating basic cutting drills. What's most important is the progression so that we're building foundations to building on those skills.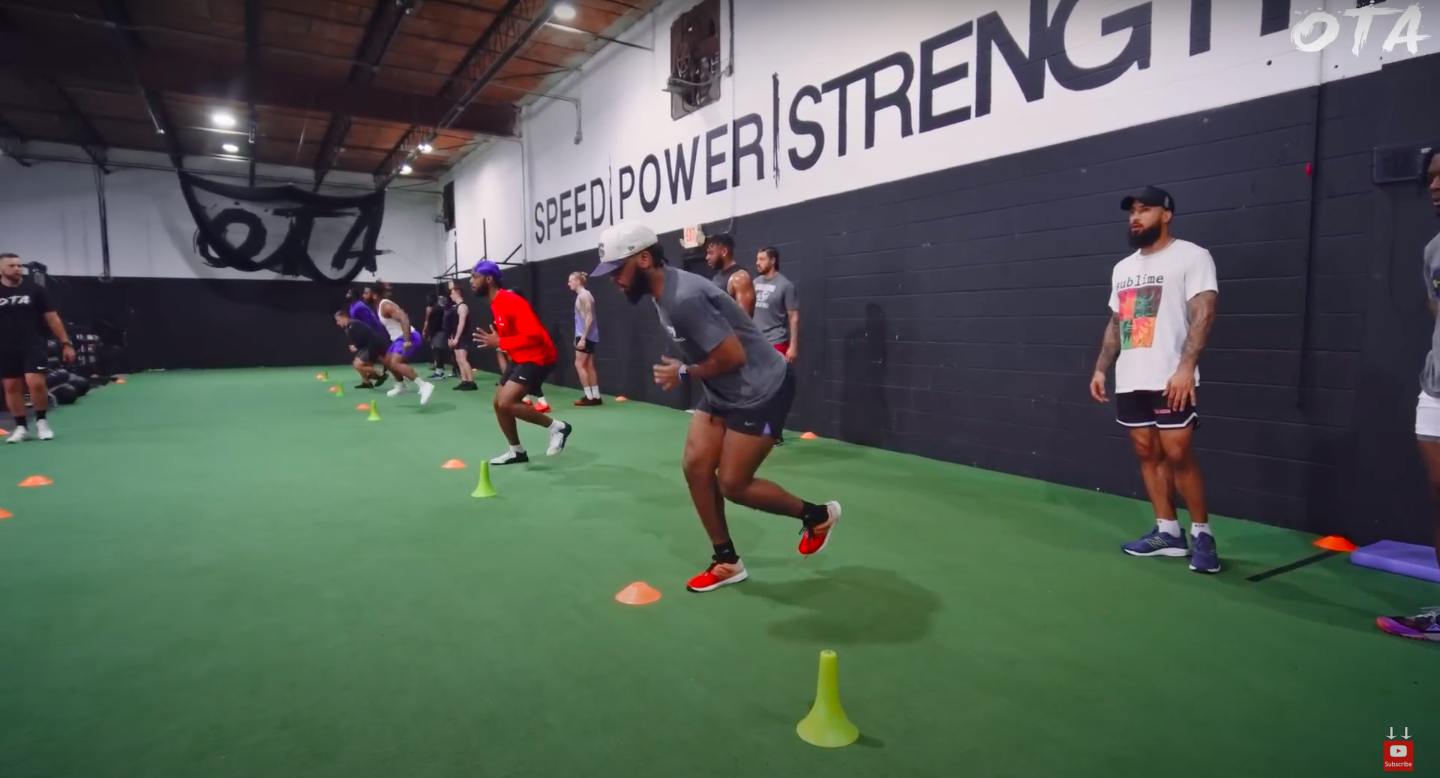 Warm-Up
As always, we started our session with this full dynamic warm-up. This helps me ensure that athletes are fully warmed up, and primed for dynamic, fast movement. Over time, I've found that this warm-up greatly reduces injuries and helps athletes have a higher intensity session.
Lateral Agility Progressions
Once you feel fully warmed up, you may begin your full agility training for football with these lateral agility progression. This sequence requires a few cones for placement.
Skater hops (vertical focus)
Skater hops (low, lateral focus)
Skater hop combo (vertical pop to lateral slide)
Skater hop with single leg pogo jump
Aim for about 2-3 sets of 3-5 repetitions on each leg
Dynamic Agility Training
Once you've really got the movement pattern down, we'll start to add onto the skater hops to make them more dynamic and add an element of difficulty. With each jump, make sure you fully land the hop and take a moment to settle yourself in that athletic position.
Single leg forward hop to lateral slide
Single leg forward hop to lateral hop (land on both feet)
Single leg forward hop to 45 degree forward hop (land on both feet)
Aim for about 2-3 sets of 3-5 repetitions on each leg
Sprint training for football
Now we can increase the threshold the movements you've been working. At this point we'll start to integrate sprints into our agility training for football to work on cuts. This should make it so that your whole workout starts to feel much closer to the actual patterns you'll follow on the field at game time.
Sprint w/ 45 degree cut
Curve running
With the sprinting, aim for about 3-5 sets of 1 repetition. Check out my elite football players go through this session in entirety:
I hope you try out this entire agility training session for football, or take a few to add into your own. This is a great workout to use before heavy lifting or any strength-focused session. What's important to take away is the progression of each movement… you may notice how the session began with more simplistic skater hops and eventually moved into single leg work and eventually cutting. A strong progression goes from isolated movement to compound movement.
If you're interested in a full football off-season program, don't wait to check out the link down below: