If you're looking to step your game up this football season – then you're in the right place. Here's 3 tips from none other than running back in the NFL: Rashad Jennings.
*This post was originally published in February of 2010 and updated on (October 10, 2021).
As a running back, a few of your main roles in the game are to block, receive, and rush the ball. That means it's essential to be training for strength, power, and speed so you can move through the field with ease.
Now, depending on the level you play at, your training and overall focus will shift.
Whether you're a high school, college, or pro-level athlete – Rashad is breaking down his exact areas of focus when it came to weight training as a running back in the NFL.
High School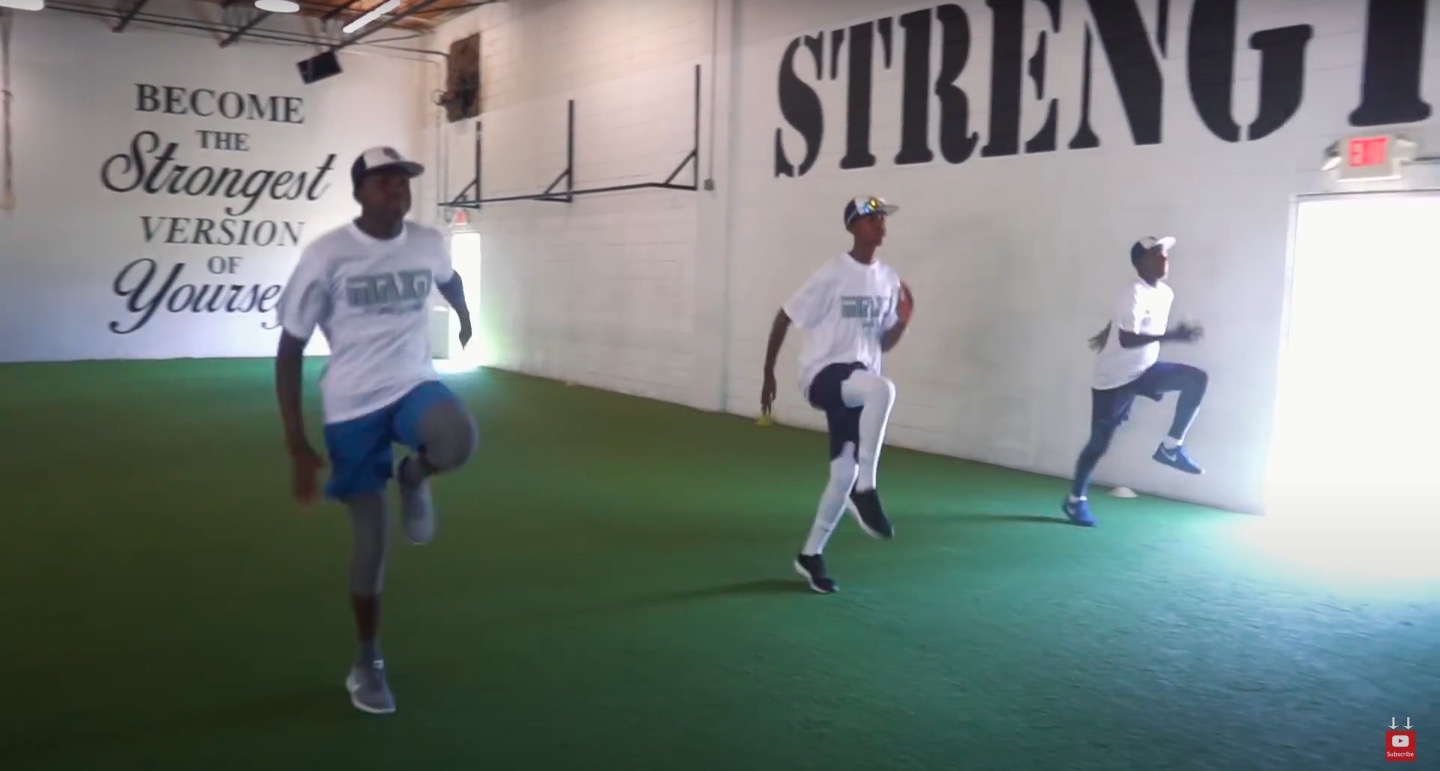 You guys know I don't typically don't recommend putting all your focus on just one sport until after high school or at least until your around 18 years old. For more info on why I feel that way, take a look at What Age to Start Football Training for Youth Athletes. 
In fact, about 95% of NFL draft picks were multi-sport athletes all throughout high school.
However, if you're in-season right now or about to begin – here's what Rashad suggests to give yourself the best chances at success: "get in the weight room and ask lots of questions."
Your strength coach is there for a reason. Pick their brain and try to get a better understanding of WHY you're training each lift and how it'll make you stronger on the field.
High school is a great time for any athlete to work on building a foundation. Between the ages of 12-16 is when I recommend you start "training to train." This doesn't mean I'm telling you to go out and find your nearest football training center… in fact, you don't need that at all (you could just train with me 1 on 1).
At this point in your career, no part of your training should be running back specific or even football specific for that matter.
Instead, your focus should be on building a foundation that'll make you a great overall athlete. Look into developing qualities like your:
You can do this through mastering your lifting technique with exercises like the squat and bench press. If you're at the high school level I highly recommend you look into my program Youth Performance to train the right way no matter what stage of the game you're at.
College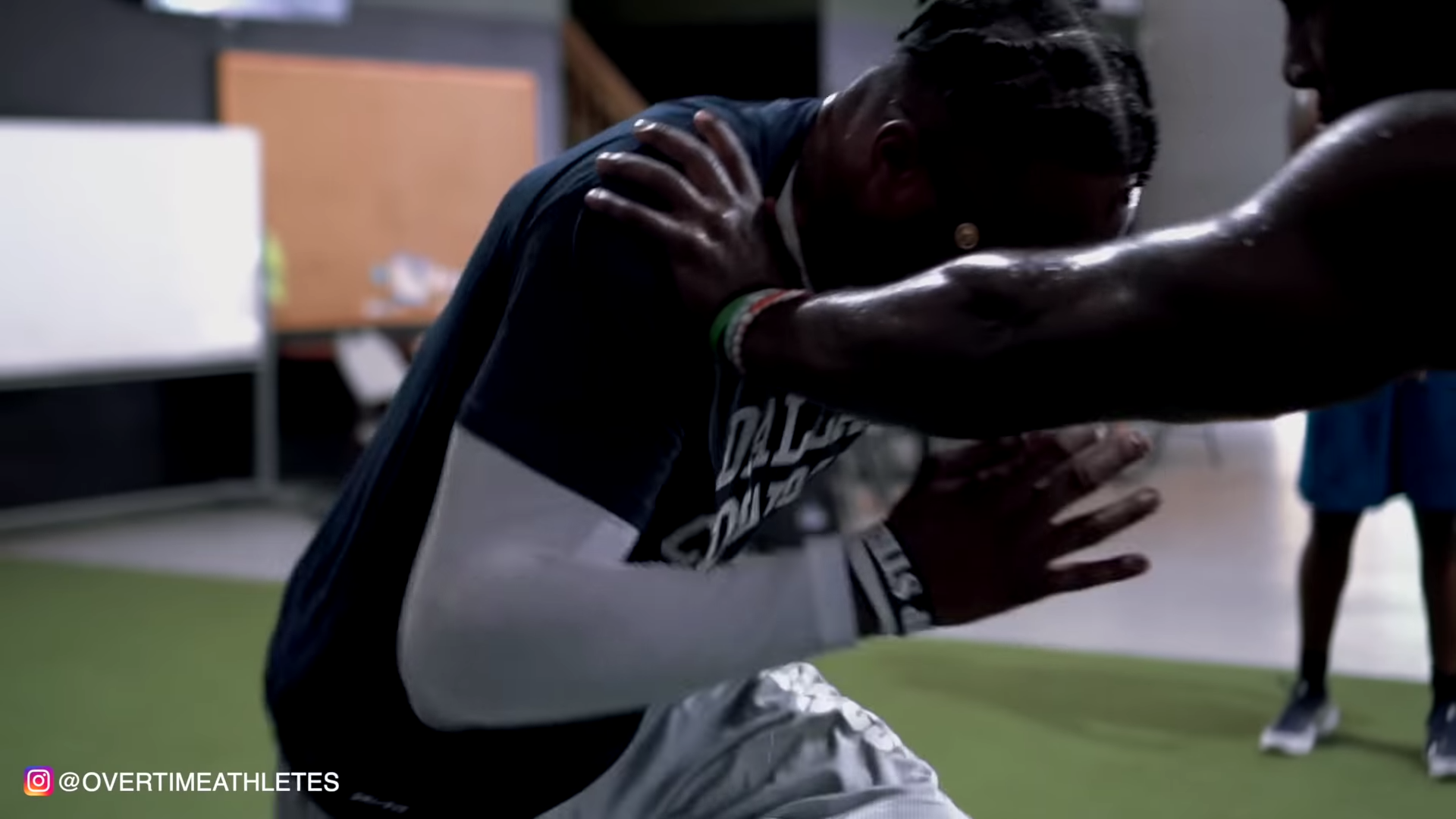 Becoming a running back in the NFL doesn't just happen overnight…
The stars of this sport start spend years working on a strong foundation in the weight room, then become really good at applying this to the football field. The main focus of your training should always be on translating the skills you train in the gym, to something that'll up your game on the field.
Check out this post on how to train for football camps and the NFL combine.
I spend a lot of time working on power-based movement with my college athletes. Typically: bench, squat, power clean and lots of jumping snd sprinting drills.
Rashad shared with me that he was able to build a strong endurance base during his college years. While football is a power sport, you need to be able to produce max power throughout the entire game.
Coming into college, you're in your prime to put on a lot more mass and strength so make sure you take advantage of this through your training regime.
Pro Running Back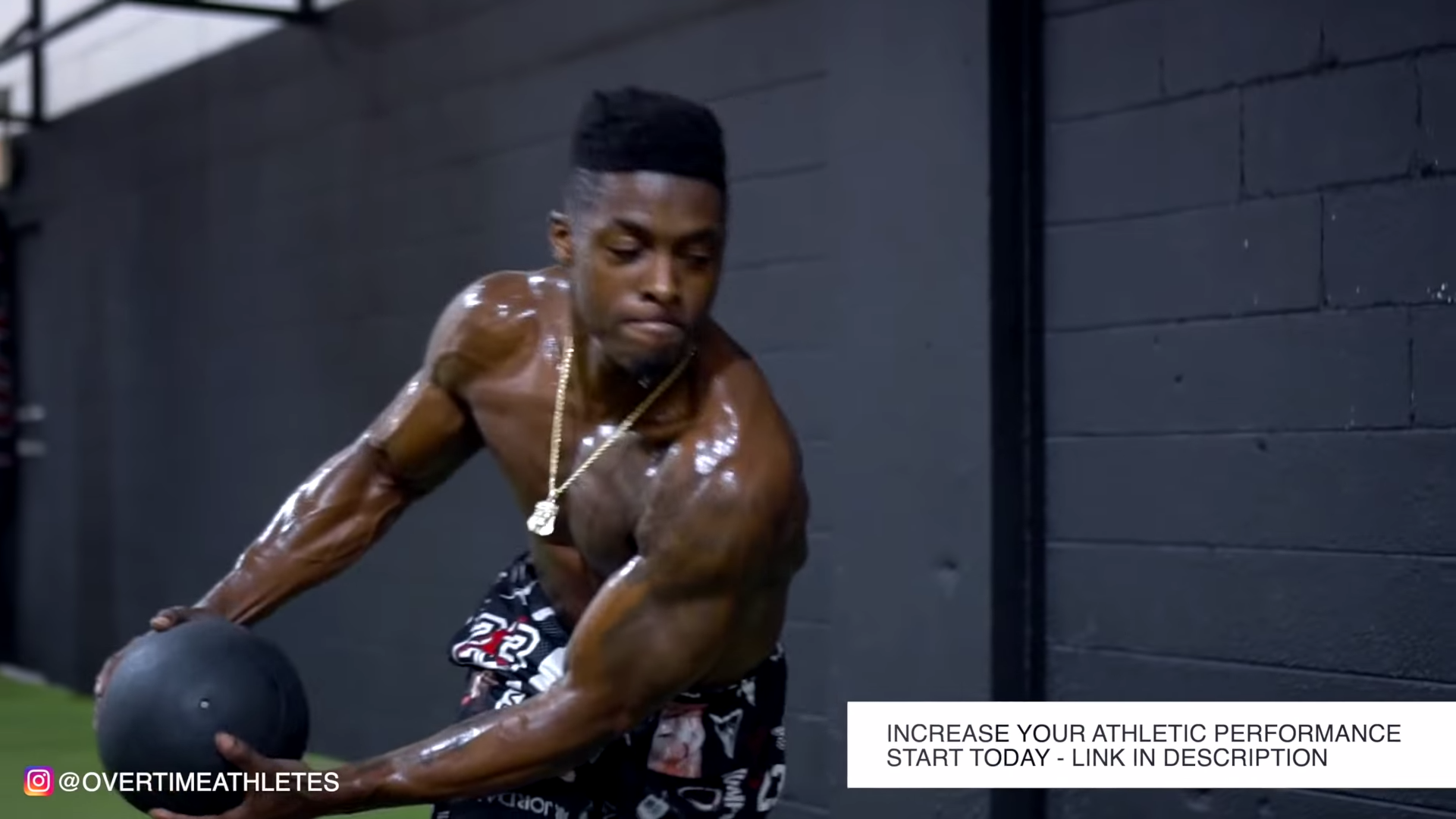 Rashad looks back on his transition from college to pro, and notes that your competitors aren't any faster or stronger than they were at the college level.
Instead he found that the biggest differences were in the reaction time:
"Guys simply think and respond faster to the same play. If a play takes just 1 second at the college level, it would only be .5 seconds once you get to the NFL."
That's why his biggest piece of advice for any football players entering the pro game is to get really educated on the game. The guys who are playing at this level have a mental mastery which makes every play a whole lot quicker.
Visualization
Jennings agrees with me on the point of training in relation to your game even using visualization to enhance this.
In other words as he's lifting weights, Rashad says he'll actually visualize himself in a certain play. While squatting you might see yourself lifting a guy off your shoulders, bench pressing should be reminiscent of a block or practicing cutting around a defenseman as you sprint.
By adding small mental elements of the game into your everyday training, you can get a whole lot more out of every day spent in the gym.
So What Does it Take to Be a Running Back in the NFL?
What I hope you take away from this article, is that it takes YEARS of hard work to be as skilled as our friend Rashad and play at such a high level.
The most important thing to remember, is that at each stage of your training (whether it be high school, college, or eventually the pros) – you need to use a program that emphasizes strength and power.
That's why you're in luck.
My program Athletic Strength Formula is the answer to becoming a stronger, faster, more dominant athlete on the field.