I love this row variation for athletes because it gets the entire body involved from the ground up, and you have to learn how to transfer strength from the lower body into the upper body. This is the ballistic sled row: Watch HERE on YouTube.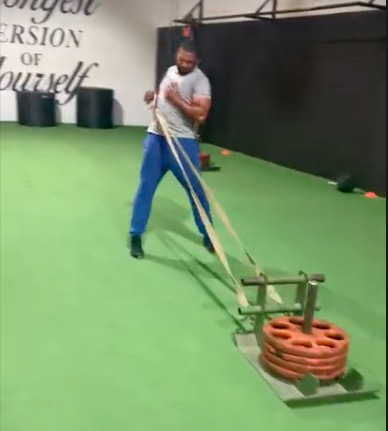 WHY DO THE BALLISTIC SLED ROW?
A ballistic sled row is a far more athletic movement than most other row variations you could try, mainly because it involves the entire body and teaches the athlete to transfer energy through the trunk. This is an important skill to have for any power-based sport.
A strong posterior chain is one of the most essential pieces of developing speed, strength, and power. The position of this ballistic sled row puts you into a back-chain dominant position where you develop your foundation.
Check out these posts for more upper body training for athletes:
HOW TO PROGRAM UPPER BODY TRAINING
How to do ballistic sled rows?
Load your sled with however many plates you like and then hold the grip in just one hand. Walk back until there's no slack in the cable and set up into an athletic stance with your hips pushed back in a slight hinge position. As you row with one hand, simultaneously stand and extend at the hips bringing the elbow up about shoulder height.
Each time you take a few steps backward to straighten the cable, alternate the hand you use to row.
Common Mistakes
Don't start the movement leaning too far forward or too far back. You want to use the positioning of your torso as an advantage so that as you extend at the hips and stand, the entire posterior chain pulls. Keep the torso straight and avoid twisting as you row.
Programming
Add ballistic sled rows into your next upper body workout aiming for 3 sets of 4-6 rows on each arm.
ATHLETIC TRAINING
Want a functional, aesthetic, and athletic upper body?